As Valentine's Day approaches I find myself a little hungry for some inspiration alternatives. Don't get me wrong, I'm all for love, but I've never been a particularly big fan of the rose petals, heart shaped chocolates, buy your sweetie something sparkly part. I also have a long standing struggle with all things pink. Then a few years ago I had little girl and despite my protests, pink worked its way into our lives and hasn't budged since 2012. (Great article here if you've shared this experience). So in honor of Vday and that radiant, "girly" hue, I'm rounding up some internet gems that may even make my fellow pinkaphobes swoon.
|| Print by Lindsay Cowles Fine Art ||
|| Image via sara-lindholm.tumblr.com ||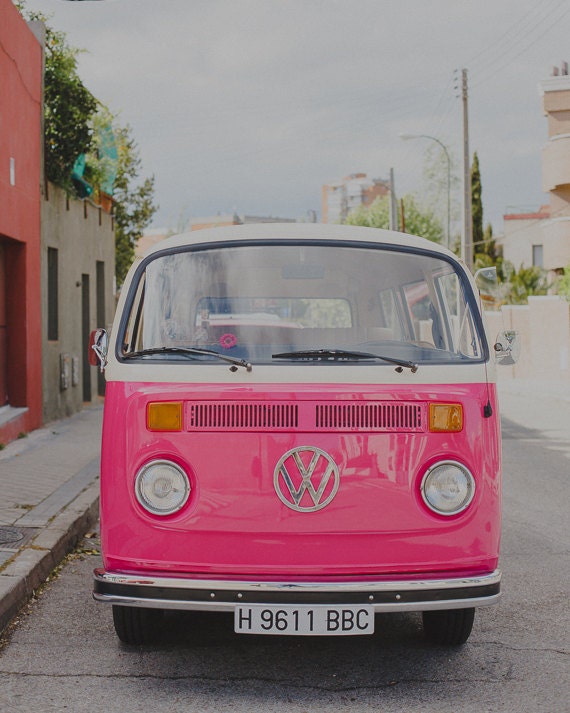 || HelloTwiggs VW Van Print via Etsy ||
Now the real test is basking in the glow of some pink all your own. If you or your sweetheart is in the giving spirit this Valentine's Day, may I offer the following suggestions to add a little more (haute) pink to your holiday?
|| 1: Volkl One W || 2: prAna E.C.O. Yoga Mat via Backcountry.com || 3: Fitbit Flex via Rei || 4: Commando
Marrakech-Print Thong via Bergdorf Goodman || 5: Ray-Ban Aviator || 6: Mountain Huckleberry Tea via Montana Tea & Spice Trading LLC || 7: New Balance Classics WL515 via Zappos  || 8: Buck Products Coral FlapSack via Everything Golden  || 9: Alice in Wonderland Collectible Edition via Barnes & Noble || 10: Rose Quartz Coasters via Rablabs ||
Enjoy and Happy Valentine's Day.